Ms. Khatera Alizaye
Program Coordinator (NECDO)
Khatera Alizaye was born on October, 11, 2001 in a well-educated and well known family. She attended Malika Suraya high school from 1- 12th grade in Kabul. While there, she had always been appreciated for being the best in moral and her studies. During her time in Malika suraya high school, khatera participated in many international competitions and received awards.
In 2018, Ms. Khatera graduated from high school with GPA of 99.40 and got into sharia (Islamic law) faculty of Kabul University where she has continued to score the highest grade in her class of 60 students. After she finished school, she had arrived at a point in her life where she had to make decisions that were vital for her future and that was choosing what to specialize in- she initially wanted to study sharia, in fact she has loved it for all her life. Being a good lawyer it has ever been one of her biggest ambitions and she is happy for being able to make this dream to come true.
Khatera Alizaye has a strong desire for social services and volunteer jobs. She has been working as program coordinator for NECDO, where she works to promote and support Afghan women and girls in gender equality, peace, security, advocacy and networking and tech.
Khatera's mission is to support women to achieve their full potential; to encourage, enable and facilitate their active involvement in organization, employment, learning and community life. She seeks to achieve this by harnessing the economic power of women and communities, promoting social inclusion, changing perceptions and influencing policy.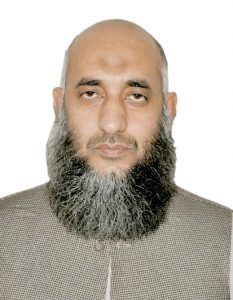 Dr. Fazal Ghani Kakar
Technical Advisor (NECDO)
Mr. Fazal Ghani Kakar son of Mulawi Mohammad Hanif Kakar was born in 1352 in Nangrahar Province (Located in East of Afghanistan).  After he finished his early studies he got his BA degree in Islamic Law from the Islamic Academy of Science and Technology. He did his Master degree and PH. D in Islamic studies and Sharia Law from Peshawar University in Pakistan. In 1997 he founded an organization by the name of Alfajr in which he helped and trained Afghan youth for about 20 years in Pakistan Refugee camps and within the country (Afghanistan).
In 2003 he joined NECDO (Noor Educational and Capacity Development Organization) a national Afghan organization working in Education, Capacity Building, Islam and Human Rights and Peace and Reconciliation.
In result of his work with Ualama under the RUPR (Role of Ulama for Peace and Reconciliation) he found the Afghanistan Nahdhatul Ulam, (NUA) which is rapidly growing in the country and Ulama from almost 15 provinces of the country have become the members of this organization.
He work for the peace and brotherhood of Muslims and the unity of the Ulama and a durable peace restoration in Afghanistan is one of his noble missions.